Why Do I Try to Accept Every Speaking Engagement that's Offered to Me?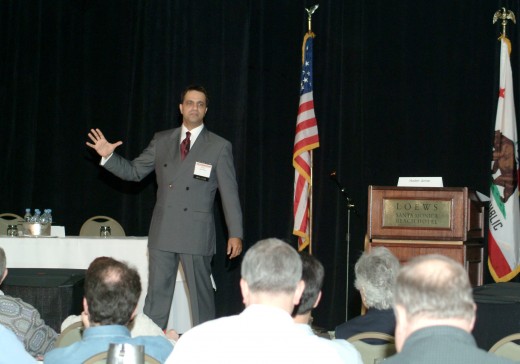 Speaking and writing are two of the most professionally rewarding things I do. I really love them both. When I'm in front of a live audience, not only do I get to impart valuable marketing lessons, but I also get to see – firsthand – those special "Ah Ha!"  moments that strike like a lightning bolt. As a speaker, there's nothing more gratifying.
Writing articles and ghostwriting books are equally as satisfying, but in a different way. I can typically reach a much larger audience than I can with speaking. Plus, unlike speaking, any article I write – whether written for a bar publication or other legal publisher – enjoys an extraordinarily long shelf life. I have received feedback from readers, in some cases, years after an article was published. This wouldn't be possible if it weren't for the Internet.  
As a marketer, I realize there are few things more effective in generating business than speaking and writing.
I always do my best to accept every speaking or writing invitation that comes my way. Of course, sometimes conflicts arise and I'm unable to reschedule an obligation that has already been made. But I promise to do my best to accommodate you, your function, your topic and date. As my late father used to say, I wish there were 30 hours in a day!
                            Speaking Inquiry
If you would like me to speak at a convention, meeting, retreat, awards dinner, or for any other function, just send us all the details regarding your event (including budget) and I will do my utmost to free up my schedule. But please understand, there are a limited number of speaking engagements I can do in a year.

What are conference organizers saying about Nader's presentations? Here's a small sample:
"After I promoted your topic and qualifications, this was the highest attendance we have had since I have taken over as co-chair. A number of people came up to me after your talk and contacted me over the next several days to tell me how much they enjoyed it." -Jeffrey Lerman, Esq., Marin County Bar
"I just wanted to take a moment and thank you for helping us to launch our continuing legal education series at the Corporate College. Your nationally renowned presentation: Marketing Your Law Firm Like a Pro…Without Cheapening Your Image was an exceptional catalyst in creating interest and introducing our exciting new product offering to the local market place. The response we have received from the students in your class has far and away been the most positive. The topic was well received by everyone in attendance including a number of non-lawyers who were interested in your universally appealing message on effectively marketing an organization… I knew your course would be a successful offering, however I have been very pleasantly surprised by the secondary benefits we have received." -Dr. Dennis N. Ulrich, Exec. Director, Corp. College West
"I think you will be pleased to know that at the conclusion of your program I heard many positive comments from the attendees. The style of your presentation was particularly engaging because you demonstrated the practical efforts of your strategies with entertaining stories taken from personal experience." -Tom Pye, State Bar of California Litigation Section
"Thank you for presenting the program, "Spin (Juris) Doctor: Public Lawyers and the Media" at the Division's Public Law Office Management Conference. You provided useful information about dealing with the media for public lawyers in a concise and entertaining format. The generous contribution of your time and expertise was much appreciated." -Susan Kidd, ABA Gov't. and Public Sector Lawyers Division
"As chair of the Committee 13 "Negligence and Damages" of the International Bar Association, I would like to thank you for speaking at our session of "The good, the bad and the ugly"… The session was a complete success and we received a great deal of positive feedback from all who attended and from the IBA itself. As you are aware, presidents of the law societies from all around the world were present and a number of them had contacted me after the session to tell me how much they enjoyed your presentation." -Alberto Perez Cedillo IBA Chairman Committee 13
 "The feedback from the students in attendance was very positive, which is a tribute to your helpful insights and advice. It was obvious from their questions that the students found your presentation to be informative and practical." – Janet Mosseri, Esq., NSU Law Center Director of Career Development
To send us an email to check my speaking availability, click here. Please provide as many details about your function as possible.
Writing Inquiry
Although I receive requests to do all types of marketing-related writing, the bulk of my writing slots are filled creating direct mail campaigns and writing ads and other promotional copy for clients in the legal field. It is not unusual for one of my letters to outperform a law firm's current direct mail package by 100, 200, 300% or more. It's happened more times than you would probably believe. I've also achieved similar results for legal vendors who use direct mail letters to sell directly to lawyers and law firms. Make no mistake: direct mail remains one of the most effective and also cost-effective tools available in a legal marketer's toolbox — when done correctly. Standard direct mail copywriting fee: $15,000 per letter plus royalties.  
In addition to direct mail and promotional copywriting, I am frequently contacted to write bylined articles and to ghostwrite for various legal publishers. I really enjoy doing these, but again, time constraints prevent me from accommodating every request I receive. But sometimes it happens — the stars are aligned just right and I can say yes. Standard writing fee: Priced on a project-by-project basis.
To email us regarding a direct mail copywriting project or other writing project,
click here
. Please provide as many details as possible.